14 Nov

Turkey Troubles – An AI Design Journey

In the ever-evolving realm of digital design, AI has become an undeniable force. The release of Open AI, chatGPT, and Adobe's Firefly marked significant milestones in the integration of AI into commercial design applications. This AI design study explores the implications, challenges, and possibilities that arise when machines become design collaborators.

The Ethical Crossroads: This study raises questions about copyright, ethics, disclosure, and usage in AI-driven design. As we venture into this AI-driven future, this project serves as a case study, provoking thought on the ethical considerations that must accompany such powerful tools.

A Symphony of Creation: Time is critical in design, and this project underscores the efficiency gains AI brings to the table. The study highlights the sheer impact of AI in accelerating the creative process. I've spent somewhere between 40-80 hours and cut out a lot of time. This work would still cost approximately $2400-4800+ freelance.

Adopt or Adapt: Adopting powerful AI tools isn't just an option; it's a necessity for staying competitive in an industry already saturated with talent.

Fear or Learn: Embracing AI is essential for aspiring designers to succeed in a saturated field. Harnessing the power of AI is the only way to stay competitive.

In the grand scheme of design, this AI-driven project stands as a testament to the potential that lies at the intersection of human creativity and artificial intelligence. The future of design is not a question of whether AI will be present; it's a question of how we will use it.
Part I: Research
What makes a Thanksgiving tradition? Are we nostalgic? Design process: Empathize, and conduct research. What I'm looking for is the essence of a 1950s Thanksgiving and vintage product advertising. I'm using the brand new Adobe Retype AI tool to identify some fonts to replicate the hand-drawn fonts of 1950s advertising.
Tools: Google, Adobe CC Illustrator AI Retype (beta)
Approximately 46 million turkeys are consumed on Thanksgiving in the United States.

The most popular Thanksgiving side dishes include mashed potatoes, stuffing, and green bean casserole.

Pumpkin pie is the favorite dessert for the majority of Americans, followed by pecan and apple pies.

The Macy's Thanksgiving Day Parade, one of the most famous Thanksgiving parades, typically draws over 3.5 million live spectators and is watched by more than 50 million viewers on television.

Online sales on Black Friday surpassed $8 billion, with many consumers opting for e-commerce over in-store shopping.

Thanksgiving is a time for giving back. Many volunteers and organizations provide meals and assistance to those in need.

The Introduction of TV Dinners: In the mid-1950s, the concept of "TV dinners" was introduced by Swanson, a major American frozen food company. This innovation changed the way some families celebrated Thanksgiving. Swanson's "TV Turkey Dinner" was a pre-packaged meal that included slices of turkey, cornbread dressing, peas, and sweet potatoes. It was designed to be a convenient and hassle-free way for families to enjoy a traditional Thanksgiving dinner while watching their favorite television shows. This marked a departure from the traditional, homemade Thanksgiving meals and was an early example of how convenience and technology were impacting American dining habits during the 1950s.

Part II: Ideate
Straight from the desk of Don Draper, a creative brief. Just kidding, with a few prompts and some editing using AI and POOF, I have a basic creative brief.
Tools: ChatGPT, Grammarly
Creative Brief: "Turkey Troubles" - A 1950s-Style Holiday Promotional Campaign

Campaign Overview:
"Turkey Troubles" is a charming 1950s-inspired holiday promotional campaign for Pluck-It Farms Turkeys. It combines nostalgia, humor, and a sense of family to convey the brand's tradition, quality, and spirit of Thanksgiving. The campaign includes three vintage-style ads and a heartfelt message.

Ad 1: Introduction
Objective: To introduce Pluck-It Farms Turkeys with a strong emphasis on tradition and quality.
Visual: An ad features a happy family gathered around a beautifully roasted turkey on a classic Thanksgiving table. The scene should exude the warmth and nostalgia of 1950s advertising.
Text: "Pluck-It Farms: Where Tradition Meets Quality!"
Tone: Nostalgic, inviting, and warm.

Ad 2: Pie Perils
Objective: To engage the audience with a humorous and memorable scenario related to Thanksgiving.
Visual: Depict a well-dressed housewife holding a pie. A pie chart comparing Thanksgiving dinner activities should accompany her, humorously depicting modern Thanksgiving: Plotting Black Friday shopping, Posting pictures on Instagram, Dodging family questions, and thinking about dessert.
Text: "Thanksgiving Dinner"
Tone: Light-hearted, comical, and relatable.

Ad 3: Dinner Place Setting
Objective: To engage the audience with a humorous and memorable scenario related to Thanksgiving.
Visual: Depict a formal place setting indicating the proper placement of a smartphone. 
Text: "How to Set a Table for Thanksgiving"
Tone: Light-hearted, comical, and relatable.

Ad 4: The Big Reveal
Objective: To reveal the Pluck-It Farms Turkeys logo and create anticipation.
Visual: Present a video ad that unveils the Pluck-It Farms Turkeys logo, hinting at the brand's storytelling tradition. A warm, rustic setting and a sense of anticipation should be evident.
Text: "At Pluck-It Farms, every turkey has a story to tell!" and "We'll do the plucking, you do the stuffing."
Tone: Intriguing, warm, and inviting.

Brand Identity: Pluck-It Farms Turkeys
Logo: The logo should feature a charming and vintage-inspired design. Incorporate an iconic, stylized turkey image with a playful twist. The brand name should be in a classic 1950s font.

Message: "Be Thankful, Grateful, and Kind"
Objective: To deliver a heartwarming message about the values of Thanksgiving.
Visual: Design a standalone ad with an elegant 1950s font displaying the message "Be Thankful, Grateful, and Kind." A vintage-inspired design, in classic 1950s fonts emphasizing the importance of gratitude and kindness during the holiday season.
Tone: Heartfelt, warm, and inviting.

This "Turkey Troubles" campaign seamlessly blends nostalgia, humor, and tradition to promote Pluck-It Farms Turkeys, capturing the essence of Thanksgiving and the values associated with the holiday.


Creative Assets
Finding creative assets used to be a daunting challenge, spending hours scouring stock photography for that perfect image for your creative campaign. The process was time-consuming and often frustrating. But now, thanks to the power of AI, those elusive images are just a few clicks away. AMAZING!
Tools: Adobe Firefly, Microsoft Bing powered by DALL-E 3
Part III: Color and Typography
To create a visually appealing and memorable campaign that captures the essence of the 1950s era, it is crucial to carefully select colors and typography that resonate with the theme while maintaining modern design standards. The right combination of colors and typography can help to create a cohesive and attractive design.
In the 1950s, advertising and graphic design embraced a vibrant and colorful aesthetic that reflected the optimism and consumerism of the post-World War II era. The use of soft pastel colors, such as pale pink, mint green, baby blue, and light yellow were prevalent in creating a gentle, feminine, and optimistic feel in the 1950s. Rich, primary colors like bright red and cobalt blue were also popular in the era, exuding energy and vitality that captured viewers' attention. Turquoise and aqua shades were emblematic of the 1950s, bringing a sense of freshness and modernity to designs. Harvest gold and burnt orange were warm, earthy colors that became trendy in the late 1950s and were often seen in kitchen appliances and home decor advertising. Bold and colorful floral patterns were widely used in fashion, home textiles, and wallpaper during the 1950s.
For this, I'm using the brand new Adobe Illustrator text-to-vector-graphic AI tools to create 1950s patterns that match my color palette and Adobe Express to create a simple animation for my holiday social media campaign rather quickly.
Tools: Adobe Illustrator, Adobe Firefly text to image pattern, Adobe Express (quick animated social videos)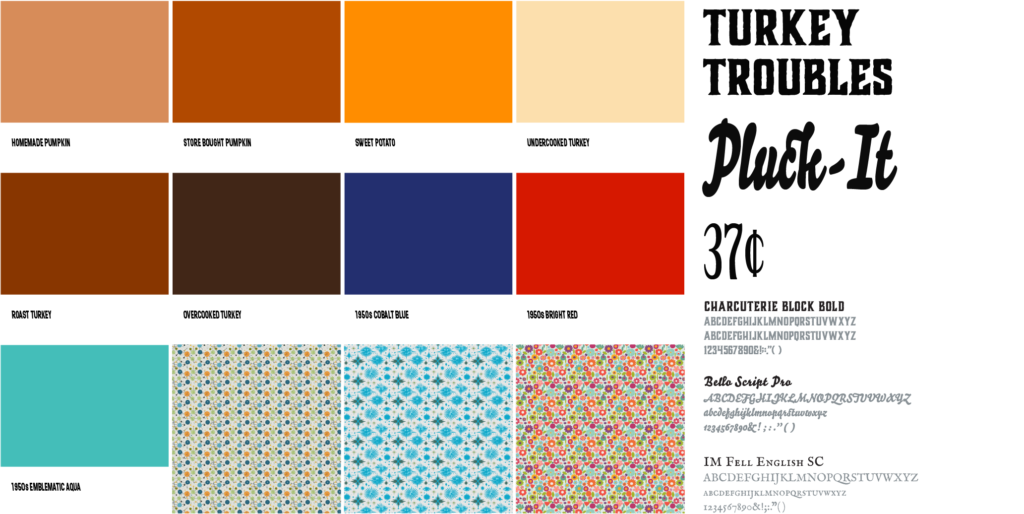 Part IV: Pluck-it Farms Turkeys Ad
Any of Adobe's timeline animation tools can be used to create an animated ad introducing Pluck-It Farms Turkeys. I'm going to use Adobe Animate instead of using After Effects or Adobe Express (mid-range). First I did some static layouts and typesetting in Illustrator, and then I brought them into Animate to create a 1:1 format MP4 ad to post on Instagram, LinkedIn, Facebook, and Twitter (X). Adobe Animate can also be used to create HTML5 media for Google advertising.
Tools: Adobe Illustrator, Photoshop and Animate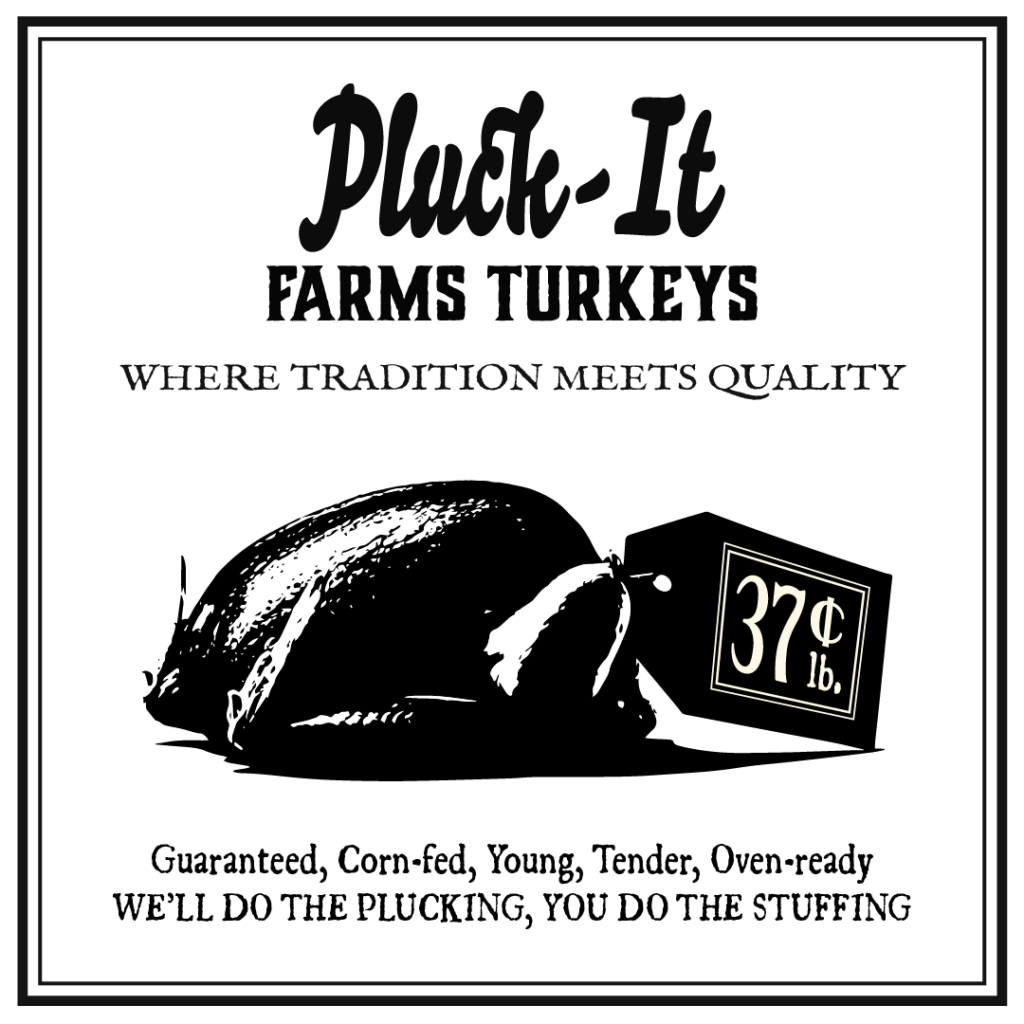 Part V: Pie Perils Carousel Ad
A carousel ad is a single ad with multiple images and/or videos. Carousel ads are used on social to share multiple products or features in one. Using Adobe's new text-to-vector-graphic AI tool, I was able to quickly create a tasty and interesting pie chart. What a pie chart!
Tools: Adobe Illustrator (text-to-vector-graphic)
Part VI: AI-generated video script, and voiceover
Tools: ChatGPT, ElevenLabs
Title: "Pluck-It Farms: Unveiling Traditions"
[Opening scene]
Soft, melodic country background music starts playing as the video fades in from black, revealing a warm, rustic farmhouse bathed in golden sunlight. The sound of distant turkey gobbles can be heard.
[Text on screen]
"Every turkey has a tale to tell"

[Transition]
The camera slowly pans through the picturesque farm, capturing the essence of a family-owned tradition.
[Main scene]
As the camera moves closer to the farmhouse, the Pluck-It Farms Turkeys logo remains hidden. The anticipation builds as the video teases glimpses of feathers and the iconic Pluck-It Farms colors.
VO: (Gently) "In the heart of tradition, where stories are woven into the fabric of family, there's a place where every turkey carries a tale. Welcome to Pluck-It Farms."

[Transition]
Cut to a cozy kitchen, where a 1950s era family is joyfully enjoying a Thanksgiving feast
VO: "At Pluck-It Farms, our turkeys are more than just a centerpiece. They're a tradition, a legacy, a story waiting to be told."

[Big Reveal]
The camera finally zooms in on a beautifully crafted wooden sign hanging outside the farmhouse. The Pluck-It Farms Turkeys logo comes into focus.
[Text on screen]
"Where Tradition Meets Quality"

[Closing shot]
The Pluck-It Farms Turkeys logo remains on the screen, leaving viewers with a lasting impression.
[Text on screen]
"We'll do the plucking, you do the stuffing."
VO: "We'll do the plucking, you do the stuffing."

[End scene]
The screen fades to black, and the video concludes, leaving the audience excited and intrigued about the story behind each Pluck-It Farms Turkey.
Part VII: Video storyboard
Tools: Adobe Illustrator
Part VIII: AI-assisted Pluck-It Farms video advertisement and logo
Although this 30-second video ad may not seem very exciting in a world full of content, it's important to note that creating it is a very time-consuming process. By leveraging AI to create assets, sketches, copy, and audio, the time required to produce a video can be reduced by almost 80%. It's also worth noting that videos need to be edited into at least three different formats, including 16:9 (widescreen) for web and YouTube, 9:16 (vertical) for Instagram and TikTok reels, and 1:1 (square) for LinkedIn and Facebook posts.
Tools: Adobe Photoshop, Illustrator, After Effects and DALL-E 3
AI-generated video assets
Tools: Adobe Photoshop, Illustrator
Happy Thanksgiving
From Detroit to Pluck-It Farms: A Designer's Creative Journey
As a graphic designer hailing from the heart of Detroit, a city known for its automotive prowess, my career journey has been a unique and winding road. In a city where they build automobiles, I found myself crafting designs instead of engines, and after 25 years, my family still struggles to understand exactly what it is that I do.
Detroit, with its industrial vibe and blue-collar work ethic, might seem an unlikely place for a graphic designer to thrive. Yet, here I am, navigating a world where my passion for creativity collides with the pragmatic reality of my surroundings. In a city built on machines and manufacturing, I've carved out a niche where pixels and colors are my tools of the trade.
In a place where the question, "What do you do?" is often answered with a bemused look when I mention graphic design, my family remains a bit puzzled. To them, a real job involves hard hats and assembly lines, not sitting behind a computer screen conjuring up visual magic. But I've come to realize that sometimes, doing what you love means forging your path, even if it leads away from the expected.
Working in a city known for its industry, I've faced challenges. Sometimes, the projects I yearn for, those that allow me to flex my creative muscles using the latest tools and technology, elude me. It's during these times that I turn to the art of creation for its own sake. It's a way to exercise my creative problem-solving muscles, a personal showcase of my talent.
And so, this holiday season, as my family and friends continue to scratch their heads at my unconventional career, I've embarked on a unique project that captures the essence of my creative spirit – a collaboration with Pluck-It Farms.
Pluck-It Farms, an embodiment of warmth, tradition, and anticipation, has become my canvas. In a self-promotion campaign that might seem a bit unconventional to those who know me, I've found a way to blend the festive spirit of the holidays with the celebration of creativity. My family might think I'm a bit nuts, but hey, in the world of design, sometimes you have to embrace the unexpected and say, "Pluck-It."
After all, in a world of gears and engines, there's always room for a little pixelated magic.
Pluck-It, because sometimes, you just have to let creativity take flight.
2022 Simple Animated Greeting
This was simply created and animated using Adobe Illustrator and Photoshop with a stock photo background. Nothing fancy.